Post by Shini on Apr 22, 2013 23:51:10 GMT
About the Setting
The Shifted is set in a universe not unlike our own, so the level of technology and the products available run parallel with what we know. There are some small items of advanced technology and artefacts from other worlds available if anybody is willing to part with them, but they are limited to what few items Shifted may have brought with them. Given that nobody is prepared for the Shift, a lot of these items are more trinkets and curios than anything of actual use.
In the majority of cases, within minutes of appearing in our reality, a member of Tenebrae staff will arrive, alerted (as the brochure says) by state of the art scientific equipment that can read the energy signature of a Shifted arrival. Staff are posted all around the world to ensure they are on the scene as quickly as possible, in order to 'aid understanding and provide protection to Victims of Reality Displacement'. That's the official term, Victim of Reality Displacement, VRD, but everybody just calls them Shifted.
Shifted are taken (by persuasian or force) to the Tenebrae Estates, a gated community in a secluded area somewhere in the United States. They are usually transported privately, to limit Shifted interaction with ordinary residents of this world.
Tenebrae estates is modern and luxurious, everything is newly built and outfitted with the latest in modern conveniences. It's a place for Shifted to stay, safe from the outside world, until such time as a way home can be found for them - if a way home can be found for them.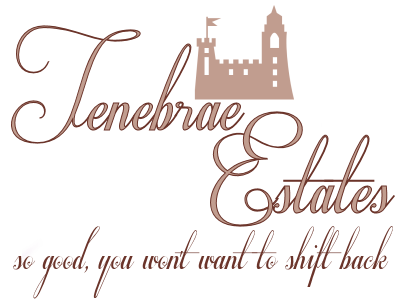 Housing
There are several houses in a small residential area in the centre of the estates, each house is individually and beautifully furnished, with three bedrooms (each with an en suite bathroom), a dining room, living room, kitchen and study. Each house has its own garden, with an additional communal garden and pool.
At first, unless otherwise requested, Shifted will be provided with a house of their own. As the population grows, however, newer arrivals may be required to take rooms in houses already occupied. These rooms will be assigned randomly, though every effort will be made to spread the numbers evenly.
Those Shifted under 18 or still wishing to attend the school will be housed in the dormitories. Each room is large enough for two people, with a bed, desk, bedside table, closet and minifridge for each, and a shared living area with a couch and television. There are six rooms on each floor, and each floor has two unisex bath/shower rooms. As with the houses, Shifted will be provided with their own room wherever possible, unless otherwise requested.
As the population increases, it may be necessary to house non-students in the dormitories.
A list of currently occupied housing may be found
here
Work and Education
Those under the age of 18 are required to attend full time education, food and a small living allowance will be provided for them until such time as they are old enough to attend work, although part-time jobs are available for extra spending money.
Given the small number of inhabitants, classes are generally mixed in age, students are allowed to choose several subjects from the large range offered by the Tenebrae Academy. Those needing extra education or more basic subjects can also get any help they require. Those older than 18 are also able to attend the Academy for further education.
All businesses in Tenebrae Estates offer employment to the Shifted. Shops, restaurants and entertainment venues all offer jobs, and Shifted can also become teachers at the Academy, mentors/guides to new Shifted, or get administrative jobs in the welcome centre. Those jobs not taken by a Shifted are performed by a regular Tenebrae member of staff.
A list of available jobs and Shifted currently employed or studying can be found
here
Entertainment, shopping and eating
Like any other town, Tenebrae has a range of shops, eateries and entertainment venues for its inhabitants to enjoy. Tenebrae mall caters to all your shopping needs, from clothes to cosmetics, books to bedsheets, everything you need and a lot of things you don't. There's also a small corner shop nearer the residential area, and a supermarket for your grocery needs.
Tenebrae also boasts restaurants to suit a range of pockets, small cafes for a light bite to eat, diners for a heart meal on the cheap, or fancy restaurants to splash out on that special someone, whatever you're looking for.
The town is definitely not lacking for entertainment, since you've got nowhere else to go you might as well keep yourself busy. The entertainment complex contains bars and nightclubs, a cinema, bowling alley, skating rink and arcade, along with several other activities, so whether you want something active or relaxing, Tenebrae probably has it.
Remember: Tenebrae has a self-contained currency. All money produced in Tenebrae is in easy to use coin denominations, divided into wholly logical 5's and 10's. There's a 1, 5, 10, 15, 20, 25, and 50 coin, which are used for various purchases. Generally speaking, a 1 marked coin buys a soft drink; 5 mark probably pays for a meal at the casual restaurants.
Greenery
Separating the residential area from the main town centre is a large, well maintained park. Several seating and picnicking areas, specially designed gardens, a beautiful lake (complete with swimming and boating opportunities), large lawns ideal for impromptu ball games, a running track and tennis courts all feature.
The town is also surrounded on most sides by fields, maintaining the illusion of an open space, and there is a forest to the north of the residential area. If you travel too far into either of them, you come to the fence and are turned back by Tenebrae staff.
The Staff
The Staff at Tenebrae Estates are divided into two groups:
Maintenance, Upkeep, and Assistance - are average individuals working to help serve Shifted needs. Many of them are Shifted themselves who have volunteered to help in some form or fashion. They serve mostly to keep the Estates up to date and neat, as well as to assist Shifted with basic daily needs. They work with the S.U.I.Ts division, but are subordinate to them and are not privy to much of their information.

S.U.I.Ts (Suited Uncompromising Investigation Teams) - are the suited individuals who approach Shifted when they first arrive. They dress uniformly in sharp suits and sunglasses, and are known for being cold, but professionally friendly. Their duties are twofold: they venture outside of the Estates to find newly Shifted and bring them home, and they serve as the peacekeeping force within the Estates. Shifted can join the S.U.I.Ts, but they must be exceptional. They are led by Agent Six, a known Shifted.

----
Leaving Tenebrae Estates
Everything about Tenebrae is designed to make Shifted want to stay there. If questioned, staff will explain that they are trying to make life for the Shifted as easy and comfortable as possible, and all possible efforts are being made to find a way for them to get home. Any attempt to find out more about these efforts, who's doing them and/or how a Shifted can get involved in helping is carefully and politely rebuffed with deliberately obtuse answers.
Should Shifted attempt to escape the complex, they are turned back with whatever force is deemed necessary by the staff. Whatever their motivation, they don't want you to leave.